Child with a Disability - Educating Children with Disabilities
Terms and Definitions: Child with a Disability
Under IDEA, a child with a disability is a child with one or more of the following conditions:
Mental retardation;
Hearing impairments (including deafness);
Speech or language impairments;
Visual impairments (including blindness);
Serious emotional disturbance;
Orthopedic impairments;
Autism;
Traumatic brain injury;
Other health impairments; or
Specific learning disabilities.
And in addition, who needs, because of having the condition, special education and related services.
A disability that is protected under section 504 includes a "physical or mental impairment that substantially limits at least one major life activity." If the disability needs accommodations, the child will receive a section 504 plan.
If a child has a disability under IDEA, it is almost always a disability under section 504, but not necessarily the other way around. Depending on the disability, a child may or may not need accommodations under section 504, or special education and related services.
Drupal Block to Reference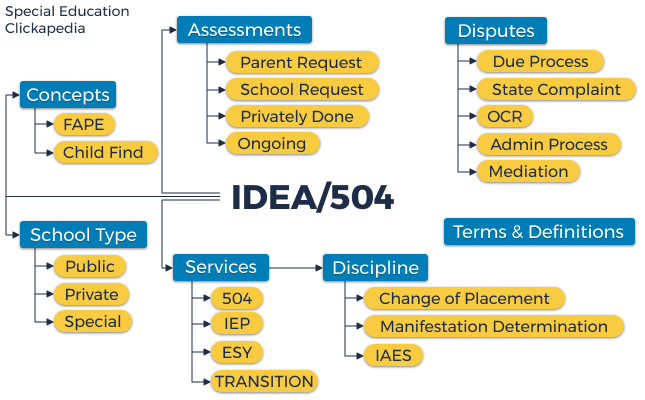 Because of the generality of the information on this site, it may not apply to a given place, time, or set of facts. It is not intended to be legal advice, and should not be acted upon without specific legal advice based on particular situations