Due Process - Educating Children with Disabilities
Due Process
If parents disagree with the school district on any matter relating to the identification, evaluation, or educational placement of the child, or whether the child is receiving a free appropriate public education, they can file a due process complaint notice.
When a school district proposes to or refuses to initiate or change the identification, evaluation, or educational placement of a student with disabilities, it must give prior written notice. Failure to do this may have a legal effect, but it may not, because often a hearing officer will decide that the failure was a procedural violation that didn't make much difference.
During due process, the child will "stay-put" in whatever placement he or she was in.
Filing a due process complaint may be done any time from immediately to within two years of the date the parent knew or should have known of the basis for the complaint.
All issues must be included in the complaint, or they may not be addressed in the hearing. Amending the complaint is only sometimes possible.
A due process hearing is a full-blown administrative hearing in front of a hearing officer, very much like a trial, but less formal. Both sides may present evidence and witnesses.
Once the complaint is filed, the school district has 10 days to respond to the notice, and it must give prior written notice if it has not already done so. The school district has 15 days to schedule a resolution session (or mediation). It has 30 days to resolve the dispute. The school district has 15 days from receiving the complaint to allege that the complaint is insufficient. The hearing officer has 5 more days to decide whether the notice is sufficient. Once the 30 days for resolution or mediation have passed, the hearing officer has 45 days to make a decision, and the hearing should be scheduled within that time.
If either side disagrees with the hearing officer's decision, it can be appealed within the Colorado Department of Education.
Finally, either side can file a lawsuit in regular federal or state district court. The time requirement is usually 90 days.
Drupal Block to Reference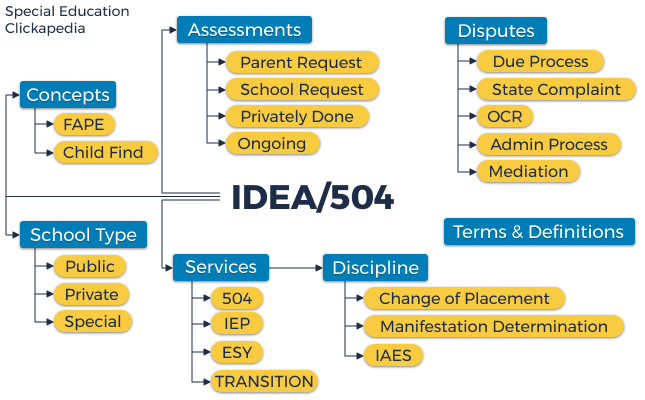 Because of the generality of the information on this site, it may not apply to a given place, time, or set of facts. It is not intended to be legal advice, and should not be acted upon without specific legal advice based on particular situations