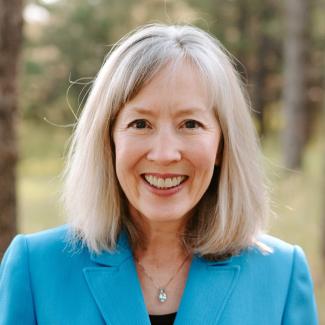 Theresa Lynn Sidebotham
Attorney
Background
Theresa Sidebotham assists organizations in the U.S. and internationally, with a special focus on employment law, religious and nonprofit law, and child safety. She advises on numerous misconduct investigations. She is also the founder of Telios Law PLLC.
Although Theresa was born in New York, her parents arrived in Indonesia just in time for the "Year of Living Dangerously," and her family was among the few foreigners who stayed in Jakarta through the Communist coup and counter-coup. Fortunately, she was too small to remember any of it, including the death threats. Her parents started work with the Sundanese years before the term "unreached people group" was coined, and she grew up in West Java, making her a Third Culture Kid or Missionary Kid. Like many TCK/MKs, she has lived in 7 countries for a summer or more and learned—and mostly forgotten—7 languages if you include English. Her schooling included international school, missionary boarding school, private Christian school and American public school, though mostly home school—of the "have these books finished before the end of the school year" variety.
She left for Wheaton College with no visible means of support when she was 16, going on 17. There she met her husband Bruce, who was on a full ROTC scholarship for the U.S. Army. Theresa graduated in the top 1% of the class and decided to be a military wife. The four Sidebotham boys were born on three different continents. After Bruce's military service and further education, the family headed to Sumatra for seven years.
In Sumatra, Theresa managed a tri-lingual household in a fairly primitive setting. She taught English literature in a university, and helped start a quilting home industry for under-privileged women there. Daily life in their home included her four sons; a small international school that she ran with students from at least four different countries; her husband's office and coworker; her household helpers and their child; and a constant stream of visitors, some from remote villages. Their most terrifying family adventure was the time her husband and some friends were in the crater of an active volcano when it erupted. No one in their group was killed, but Theresa helped evacuate two of the victims to Singapore, and her husband carries the burn scars to this day.
After coming back to the U.S. for family reasons, Bruce stayed in ministry. Theresa spent some time homeschooling their sons, then started law school with her four sons still at home. Law school was a relaxing change, and she graduated first in her class in 2005.
Theresa was mentored by judges at the Colorado Court of Appeals and worked at a large law firm serving religious institutions and doing general litigation before opening Telios Law. She has since gone on to represent a variety of businesses, ministries, churches, and individual clients in matters ranging from child protection to employment to civil rights and more. Her cross-cultural experience helps her serve ministries and businesses well, particularly in negotiating employment problems and conducting internal investigations into misconduct allegations.
Learn more about her current practice areas.
Email Theresa: tls@telioslaw.com
Employment & Experience
Licensed
Colorado, October 2005; District of Colorado; Tenth Circuit;
Texas, October 2013
Supreme Court of the United States, March 2019
Awards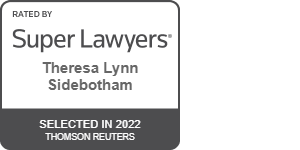 Education & Training
University of Denver Sturm College of Law
Juris Doctor 2005
Class rank #1
Faculty Prize and Order of Saint Ives
Wheaton College
Bachelor of Arts, Literature
Class Rank #5.5, GPA 3.91
Summa cum laude
Scholastic Honor Society
Columbia International University
Approximately one year of masters-level credits in linguistics, cross-cultural communication, and religion
Prior Legal Employment
Rothgerber Johnson & Lyons, LLP (July 2009 to January 2012)
Colorado Court of Appeals (August 2005 to June 2009)
Representative Experience
Theresa has represented a variety of businesses, ministries, churches, and individual clients in advising, litigation and on appeal. She has:
Conducted investigations into current and historical misconduct, including child abuse. See www.ihart.care and www.cajhistoricalinvestigation.info;
Won a favorable decision in Acker v. Grayson, (Colo. App. No. 12CA1462, Feb. 13, 2014) (not published pursuant to C.A.R. 35(f)) (real estate business litigation);
Litigated prevailing party attorney fees in federal court;
As lead counsel, won a special education due process hearing (4-day bench trial) against a school district;
Conducted motions practice, managed cases, and negotiated civil and commercial litigation that included personal injury, contract, construction, property, and insurance cases;
Represented religious organizations in several states in litigation defense;
Advised missions, churches and nonprofits on legal and policy issues, including child protection and safety, religious free exercise, and employment law;
As lead counsel, won a favorable decision in J.C. v. Dungarvin Colorado, LLC, by briefing and arguing an appellate case of first impression that interpreted statutes providing civil liability immunity for developmental disability providers;
As lead counsel, obtained summary judgment defending a plaintiff's suit against a Property Owners Association;
As sole counsel, successfully mediated special education due process complaints;
Drafted an extensive client legal review for a major religious organization and assisted in managing the related legal team for a six-month period;
Written a number of appellate briefs; 
At the Colorado Court of Appeals, done the preliminary research and drafting for close to 200 judicial opinions.
Professional Involvement
Admitted to practice in the states of Colorado and Texas, the United States District Court for the District of Colorado, the Tenth Circuit Court of Appeals, and the United States Supreme Court
Member, El Paso County and Colorado Bar Associations

President, Christian Legal Society Colorado Springs (starting 2017); Board Member (2012-2014); Workshop Subcommittee for National Conference (2012); Member (starting 2009)

Christian Leadership Alliance: Board President (starting 2015), Board Member (2013-2015)
Allied Attorney & Honor Corps Member, Alliance Defending Freedom
Community Involvement
Advisor-at-Large, Church Law & Tax Advisors Board, Christianity Today (2020)

Chair of Expert Panel for

Evangelical Council for Abuse Prevention (2019-2020)

Member of the Digital Images Task Force (2016-2018)
Chair, Wheaton College Alumni Club Committee, Colorado Springs (starting 2006)
Board Member, Homeward Pikes Peak (2013-2016) (then pro bono counsel)
Rotary Club of Colorado Springs (2011-2015), Community Service Fund Committee (2011-2013), Board Member (2013-2015)
Board Member, Special Kids Special Families (2012-2014)
Member, Evangelical Missiological Society (2012-2014)
Member, Denver Mile High Rotary Club (Spring 2008-2009), and Community Service Fund Chair
Member, Denver Metro Board of Christian Legal Society (2007-2009)
Chair, Christian Legal Society regional conference committees (2006-2007; 2008-2009)
Taught Evidence and Trial Practice to Middle School Mock Trial Teams (May 2005)
Chair of Fund-raising for Doherty High School Band and YMCA Swim Team (1998-2001)
Coached Masters and Youth competitive swim teams, Garden Ranch YMCA, Colorado Springs (1998-2000)
Organized and supervised a small school for expatriates, Padang, Sumatra (1994-1996)
Helped establish Pamato Minang, a home industry for women in Sumatra (1995)
Secretary for an Indonesian foundation that provided surgery to repair cleft palates of low-income Indonesian children in Sumatra (1992)
Created and taught English literature classes at a university in Indonesia (1989-1990)
Public Speaking
"Working with Purpose

—Operating Private Law Firms Well for Greater Kingdom Good," (with Andrew Speicher) Christian Legal Society National Conference, October 2022

"A Wild Ride: HR and Employee Needs in the Early 2020s," Missio Nexus, September 2022
"Counting the Cost of Physical, Social, or Financial Martyrdom," Missio Nexus, September 2022
"Risk and Liability Management for Short-Term Teams," Missio Nexus, September 2022
"Ministry Investigations," ABA, Webinar, September 2022
"Restoring Shalom with Apologies that Actually Mean Something," CSPN, March 2022
"Advising Churches on Abuse Prevention Systems," (with Sally Wagenmaker and Jeff Dalrymple) Christian Legal Society National Conference, October 2021
"Avoid #YouToo - Preventing and Addressing Sexual Harassment," Evangelical Council for Abuse Prevention national Conference, June 2021
"Managing the Crisis of Misconduct Allegation," Evangelical Council for Abuse Prevention National Conference, June 2021
"Law Suits and Rumors of Lawsuits," Missio Nexus, Webinar, May 2021
"Right to Reopen," Evangelical Council for Financial Stability and Christian Legal Society, Webinar, June 2020
"Beyond Secure Check-In: A Child Safety Workshop,"

Evangelical Council for Abuse Prevention

Shepherd Church, CA, March 2020
Perimeter Church, GA, November 2019
Fruit Cove Baptist Church, FL, November 2019
Church at the Cross, FL, November 2019

"Managing the Crisis of a Misconduct Allegation," Christian Legal Society National Conference, October 2019
"Steering Through the Storm: Employment Law Issues," Missio Nexus, September 2019
"Social Liability Related to Allegations and Investigations," CSPN, April 2019
"Child Safety

—

Creating or Avoiding Legal Liability," CSPN, April 2019
"Avoid #YouToo

—Preventing and Addressing Sexual Harassment,"

CLA, August 2019

CCU EMS Employer Congress, February 2019

"Steering Through the Storm: Legal and Spiritual Issues in a Rapidly Changing Culture," CCCA Rocky Mountain Section, February 2019
"Psychoeducational & Spiritual Needs of MKs: Duty of Care, Child Harm, & Legal Issues," Psychology and Law, November 2018
"Religious Liberty Legal Update 2018" (with Jessica Ross), CLS, September 2018
"Complaints, Cybersecurity, and Currency" (with Paul Winter), Missio Nexus, September 2018
"Trends and Trials in Employment Law," Missio Nexus, September 2018
"Defining Abuse in Difficult Cases: Handling the Not-so-Clear-cut Scenarios," CSPN, April 2018
"Creating a Safe Culture," CLS/ECFA, April 2018
"Covering the Bases: The Role of Insurance in Protecting Your Ministry" (with Mary Gannon), Webinar, April 2018
"Crisis Management in Global Missions," Missio Nexus, January 2018
"Legal Issues in Setting up Psychological Evaluations," Psychology & Law Seminar, November 2017
"Caregiving for Those Involved in Abuse Investigations," Missio Nexus, September 2017
"Yes, They Changed the Rules Again: Updates on Employment Law," Missio Nexus, September 2017
"What Your Mission Needs to Know About Internal Employment Investigations," Missio Nexus, September 2017
"Legal Issues with Crisis Management," Risk Management Network, September 2017
"Bullying 101: Defining, Responding Preventing," Child Safety Protection Network, April 2017
"Religious Liberty in the Public Square," Public Debate hosted by CCU's Centennial Institute with Theresa Sidebotham of Telios Law PLLC and Dr. Alex McFarland vs. Michael L."Mikey" Weinstein of the Military Religious Freedom Foundation and Professor Scott Moss of CU-Boulder, April 2017
"On Appeal? Process, Pointers, and Pitfalls for the Non-Appellate Attorney," Solo & Small Firm, February 2017
"Inspired HR: The Intersection of Law, Spirituality, and Common Sense" (for businesses), Colorado Christian College Employer Congress, February 2017
"Legal Issues for Employment Screening and Testing," Missio Nexus, September 2016; Psychology and Law Conference, November 2016
"Women in the Law Panel," Christian Legal Society National Conference, October 2016
"Inspired HR: The Intersection of Law, Spirituality, and Common Sense," (for nonprofits) Missio Nexus, September 2016
"Avoiding the Quicksand: Sticky but Common Problems in Child Safety Investigations," Child Safety & Protection Network, April 2016
"Religious Liberty or Discrimination? Two Views" (with Jeremy Shaver from ADL), "Experts in Controversies" series of the Academy Town Hall, March 2016
"On Appeal? Process, Pointers, and Pitfalls for the Non-Appellate Attorney" (with Jessica Ross), Continuing Legal Education Seminar, February 2016 and March 2016
"You've Just Been Asked to Investigate Child Abuse: What Happens Next?" (with Autumn Ascano), Mental Health in Missions, November 2015
"Handling a Leadership Misconduct Matter," CLS National, October 2015
'You're Not Xerox ™, So Don't Just Copy: How (and When) Employment Law Applies to Missions HR," Missio Nexus, September 2015
"Safety of Children in Missions—the Executive View" (with Eleanor Berry, CFO of SIL), Missio Nexus, September 2015
"Peace at Work: Balancing Religious Exercise Rights of Employers and Employees," CLA Panel, June 2015
"Handling an Allegation of Leadership Misconduct," CLA Panel, Summer 2015
"Social Media: How Your Organization Can Use it Effectively and Wisely in the Changing Culture," CLA Panel, February 2015
"Effective and Appropriate Caring and Communicating During an Investigation," Child Safety Protection Network, January 2015
"Protecting the Rights of Children with Special Needs," National Business Institute, December 2014
"Ethics in Special Education Law," National Business Institute, December 2014
"Successfully Handling Disciplinary Actions for Special Needs Students," National Business Institute, December 2014
"Panel: Legal/Ethical Overview Case Study for Counselors," Mental Health in Missions, November 2014
"Wonder Woman: Navigating the Challenges of Filings, Faith, and Families," Christian Legal Society National Conference, October 2014
"Getting it Right, Healing the Wrong: Legal Issues in Protecting Children and Organizations from Child Sexual Abuse"

OPC Presbytery, September 2014
General Assembly, PCA, June 2014
Rocky Mountain Presbytery, PCA, May 2014

"Special Education and Children with Significant Disabilities: Rights, Remedies, and Resources," Special Kids Special Families, March 2014
"Biblical Basis for Child Safety Practices and Inquiry Processes" (with Keith Robinson, Global Safety Director, SIL), CSPN Annual Conference, January 2014
"Legal Pitfalls to Avoid in Investigation and Document Management," CSPN Annual Conference, January 2014
"Child Protection: From Prevention to Responses," Christian Legal Society National Conference, October 2013
"Being Nice Keeps You Out of Court: Issues in Employee Management," Non-Profit Leadership Forum, September 2013
"Same-Sex Civil Unions and Impact on Religious Liberties," Christian Leadership Alliance Panel Discussion, May 2013
"Refresh Your Employment Law Map:  Potential Road Blocks and Traffic Jams for Ministries," Religious Law Network, April 2013; Missio Nexus, September 2013
 "Getting it Right, Healing the Wrong:  Protecting Children and Organizations from Child Sexual Abuse," Rocky Mountain Evangelical Missiological Society, March 2013; Missio Nexus, September 2013
"How Child Sexual Abuse Litigation Works," CSPN Annual Conference, January 2013
"Lessons Learned from the Catholic Sexual Abuse Scandal," CSPN Annual Conference, January 2013
"Persons With Disabilities:  Intersections with Family Law and Juvenile Law," Colorado Springs Multidisciplinary Panel, January 2013
"Not Breaking a Bruised Reed:  Persons with Disabilities and Intersections in Practice," Christian Legal Society, January 2013
"Anatomy of a Lawsuit," SYNC Personnel Conference 2012, November 2012
"Using the Discovery Process as a Litigator" (with Scott M. Browning), Christian Legal Society National Conference, October 2012
"Charting the Reefs:  Identifying and Avoiding Legal and Financial Threats to Your Ministry's Future," Religious Law Network, October 2012
"Third Culture Kids--Children of Nowhere or Global Citizens?" Colorado Springs Downtown Rotary Club, May 2012
"The Blood of the Martyrs and Legal Liability," Rocky Mountain Regional Evangelical Missiological Society Conference, April 2012
"Religion and Public Schools:  Reconciling Personal Faith and the School's Role," keynote address, ACLU Winter Forum, January 2012
"Expression of Religion in Public Schools," Christian Legal Society, January 2012
"Are Protestant Ministries a New Market?"  American Society of Missiology Symposium on Children at Risk, June 2011; RJ&L Religious Institutions Law Day, September 2011; Christian Legal Society National Conference, October 2011
"Strategies and Solutions for School Issues Panel Discussion," Conference on Juvenile Delinquency Practice: Translating Current Research into Convincing Advocacy, March 2011
"Watch Your Step!  A Case Study on a Special Education Due Process Dispute," Colorado League of Charter Schools, February 2010
"Religious Education and the Public Schools—Going Beyond Sunday School" (co-speaker), RJ&L Religious Institutions Law day, October, 2009
"Special Education and Disability Law Considerations for Child Welfare," Summit on Children, Youth and Families in Keystone, June 2009
"As I Was Walking with St. Ives:  Christian Attorneys Building the Unseen City," Christian Legal Society Regional Conference, April 2009
"Handling Developmental Disabilities in Delinquency and D&N Cases," Juvenile Hot Law Topics, March 2009
"The Statutory Framework for Special Education," Office of the Child's Representative Conference, February 2009
"I Haven't the Slightest IDEA:  A Special Education Overview," Christian Legal Society, November 2008
"Special Education and Child Welfare Law," Juvenile Law Bar CLE, November 2008
Publications
"Handling Allegations in a Ministry: Responses and Investigations," Illumify, August 2022
"Sexual Harassment: Lessons from Failure," Evangelical Council for Abuse Prevention, April 2022
"Legal Considerations for Coronavirus Guidance and Church Gatherings" (with Nicole Hunt), Christianity Today: Church Law & Tax, March 2020
"International Crisis Situations: Preparing and Responding," EMQ, October 2018
"Religious Liberty for Public School Teachers: Rights and Limitations," The Christian Lawyer, Fall 2018
"On Appeal? Process, Pointers, and Pitfalls for the Non-Appellate Attorney" (with Jessica Ross), Practice Guide, February 2016
"Handling an Allegation of Leadership Misconduct," The Christian Lawyer, July 2015
"The Importance of Preservation to Winning a Civil Appeal" (with Jessica Ross), El Paso Country Bar Journal, June 2015
"Peace at Work: Balancing Religious Exercise Rights of Employers and Employees" (with Jessica Ross), The Colorado Lawyer, June 2015
"The Story of GINA, or Who Knew Genetic Information Could Cause So Much Trouble?" ACSI Legal Legislative Update, Fall 2014
"Getting it Right, Healing the Wrong: Legal Issues in Protecting Children and Organizations from Child Sexual Abuse," Evangelical Missiological Society annual publication, 2014
"Survey of Nonprofit Risk Management," ACSI Legal Legislative Update, Winter 2013
"The Rock and the Hard Place" (with Dr. Brent Lindquist), a blog on legal and psychological issues for missions, Ongoing
Juvenile Law Benchbook for Colorado, authored 130 page section on "Serving Children With Disabilities," at www.cobenchbook.com, July 2009, updated 2011
"Are Protestant Ministries a New Market?  Lessons Learned From the Catholic Sexual Abuse Scandal" (with L. Martin Nussbaum), a paper presented at the 2011 conference of the American Society of Missiology
"Expression of Religion in Public Schools," The Colorado Lawyer, November 2011
"An Overview of Special Education Law--Part I," The Colorado Lawyer, January 2009
"An Overview of Special Education Law--Part II," The Colorado Lawyer, March 2009
"Elements of a Successful Appellate Brief" (with Aaron Einhorn), The Colorado Lawyer, June 2008
"Interested Parties in Juvenile Dependency and Neglect Cases," The Colorado Lawyer, August 2004
"Nonprofit Waivers Just Got More Complicated and Less Effective," First Freedom, September 2011
"Colorado Protects Nonprofits and Volunteers from Liability," First Freedom, September 2011
"Looking After Orphans at New Life Church," First Freedom, Fall 2009
"Writing Appellate Briefs" (with Aaron Einhorn), The Colorado Lawyer, June 2008
"Interested Parties in Juvenile Dependency and Neglect Cases," The Colorado Lawyer, August 2004
"Immigration Policies and the War on Terrorism," Denver Journal of International Law & Policy, Summer 2004
"The Problem of MK Vulnerability," Psychology for Living, March/April 1999