2022-2023 Telios Law Sojourner Scholarship is Now Closed. Please Check Back Next Year!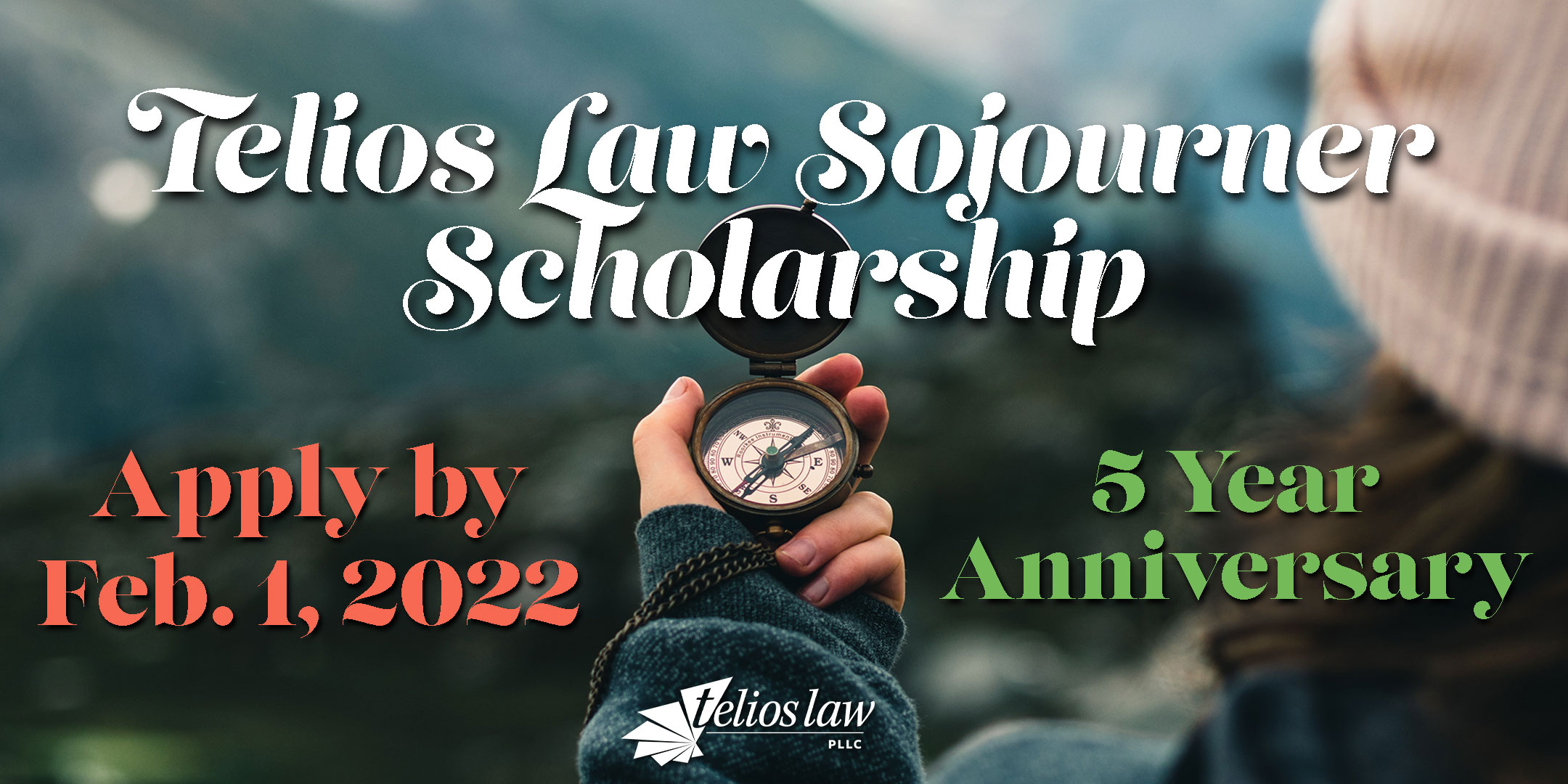 Telios Law PLLC is pleased to share our merit-based scholarship opportunity for third-culture missionary kids, for use at a Christian college for up to four years.
Five years after the founding of Telios Law in 2012, the Telios Law Scholarships were established to encourage the next generation to live a whole or complete life. The Greek word telios means "complete, perfect, or whole." We approach legal services by considering how we can bring wholeness, completeness, or maturity to ministries, businesses, and individuals, and that vision translates beyond the practice of law.
This scholarship is for an award of $1,000 per year, renewable for up to four years. The scholarship draws upon the experiences of Telios Law's founder and owner, Theresa Sidebotham. Theresa grew up as a missionary kid in Indonesia and is a mother to four missionary kids, but also finished raising her sons, attended law school, and founded Telios Law in Colorado. Her personal experience of attending a Christian college was formative and inspiring. 
Please tell your organization's families about this opportunity for the 2022 school year!
Who Can Apply?
The Telios Law Sojourner Scholarship application is open to any high school student or recent high school graduate who has spent three or more years of his or her life as a third-culture missionary kid and will be enrolled full-time for the 2022-2023 school year as a freshman or sophomore at a college or university that has an emphasis on spiritual formation in the Christian faith. 
A sojourner lives between cultures, and this is often the experience of a third-culture missionary kid. For MKs, a key to transitioning back "home" is figuring out how to flourish in a new culture. Behind this struggle is the longing for what ancient Greek philosophers called eudaimonia, which roughly translates to "happiness, welfare, or human flourishing." Telios Law believes that we as humans were made to flourish, and we want to contribute to that flourishing, not only through doing our legal work well, but by helping MKs in particular pursue their flourishing as they transition back.
The Application
CLICK HERE TO DOWNLOAD YOUR APPLICATION
Only complete applications will be accepted. Those who wish to apply may e-mail their complete application to tell@telioslaw.com (preferred) or mail it to P.O. Box 3488 Monument, CO 80132. Applications must be sent (electronically or postmarked) prior to midnight according to the applicant's local time zone on February 1, 2022. 
To ensure that your application is complete, please make sure that you submit the following materials:
a. The completed application form
b. An unofficial academic transcript
c. An addendum or addenda (optional)
d. An essay not to exceed 1,200 words authored by yourself and not significantly edited by anyone else, responding to the following prompt:
In celebration of our fifth year hosting the Sojourner Scholarship here at Telios Law, we would like to ask each of our applicants to choose and describe five different life experiences. Each of these experiences must be something that impacted your past, present, or future, and shaped you into the person you have become.
Ranking Criteria
This scholarship is merit-based, and applications will be evaluated based on the whole application. In addition, some preference will be given to applicants affiliated with clients of Telios Law. The scholarship committee reserves the right to determine who best satisfies these criteria. 
Award and Renewal Requirements
The scholarship will be awarded by Telios Law to one recipient, who will be notified of such in spring of 2022. The award will be disbursed for the 2022-2023 school year directly to the school.
The Telios Law Scholarships are renewable for up to four years, provided the recipient maintains eligibility. In order to do so, the recipient must:
Be enrolled full-time at a college or university that has an emphasis on spiritual formation in the Christian faith
Maintain at least a 3.0 cumulative GPA each semester—exceptions to this requirement will be considered based on the recipient's school and major but are by no means guaranteed
Be a student otherwise in good standing with the attended higher education institution